Klubík is an after-school tutoring and enrichment club for at-risk children living in a residential hotel in Ostrava.
Support to at-risk and excluded children and youth.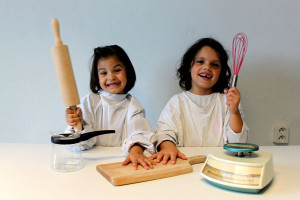 Klubík is an after-school clubhouse that provides enrichment activities for marginalized children living in a hotel house – a residential hotel  in Ostrava. This building functions as a residential hotell for socially disadvantaged individuals, families or people who find themselves in a difficult life situation. The building and its inhabitants are stigmatized. The children living there face harsh realities on a daily basis, due to the environment and to the pressures of social exclusion and poverty.
We have been given permission to run a small clubhouse, the size of a small three-room flat, where we help the children with their homework, try to give them some time to play, discover new things and, most importantly, identify their interests and capacities.
We try to give the children positive experiences, help them build their skills, and above all give them positive attention, which they seldom encounter in  their interactions with adults at home or at school. We give the children the opportunity to try new things, to discover different kinds of art, sports, or other cultural activities, and to stimulate their interest in education. We encourage their innate curiosity, which is otherwise often ignored or suppressed.
We also try to introduce them to the norms of everyday life that many of them do not encounter. The most important thing is to try to open up their world, at least a little. We encourage them to have dreams, which require setting the right goals, working towards them and acquiring important skills such as cooperation and resilience.
For these children, time spent at the club is often the only bright spot in their often difficult days.
Traditional Klubík components include:
Tutoring: Help with teacher-assigned homework, and help in the academic areas that need general strengthening.

Individual learning plans: Goal setting and tracking, both academically and in other activities.

Coordinated play: Cooperative, collaborative and positive competitive games and activities.

Free time activities & skills building.

Interactive activities (Master Chef, Art & Exhibitions, the Club Garden, Music, Other).

Sport- football, parkour, yoga.

Arts and crafts, music, dance and theater.

Field trips are especially important. They motivate the children, and are a  great opportunity to introduce them to the world around them.
"Our children need the club as a place where they can be seen, and listened to, by those who see their capacities and want to help them develop their talents and identify their dreams. The club is a place where the children feel safe and spend their free time in a meaningful way. They need us, their mentors, to praise them for their successes and support them when they fail. To help them discern what is right and what is wrong in life. To develop the child part of their souls, as their circumstances force them to grow up too soon."